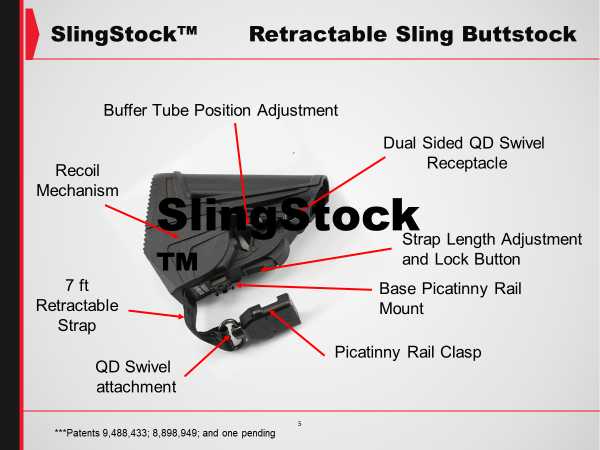 SlingStock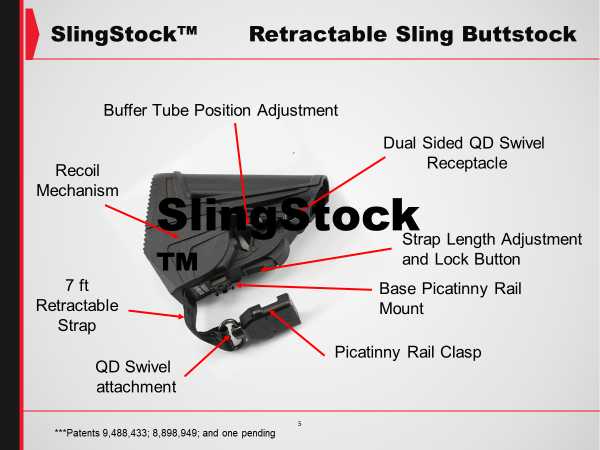 The WMD Guns SlingStock®
A gun sling is a must-have when you're toting your AR-platform rifle around, especially when it's fully loaded and decked out with optics and accessories. Any other time, it tends to get in the way and make itself a source of frustration. 
Enter the WMD Guns SlingStock®. This AR-10 and AR-15 buttstock with a built-in sling is fully ambidextrous, collapsible and produced according to strict quality standards. With its patented retraction system, the SlingStock® ensures your sling is always an asset and never a burden.
An AR Buttstock With a Retractable Sling 
With a body made of lightweight, rugged polymer, the SlingStock® Elite weighs just 19 ounces. It's designed for fully ambidextrous operation thanks to intuitive controls along the centerline, and it collapses and adjusts to fit different users with the press of a single button. You can easily install the SlingStock® on any AR-15 or AR-10 with a Mil-Spec buffer tube.
What makes this innovative piece of hardware unique is that it's an AR-15 buttstock with a sling already included. Tucked into the stock body, you'll find 7 feet of 1 ¼-inch Mil-W-4088K Type III Class 1 black webbing — which translates to an integral rifle sling with 800 pounds of breaking strength. It's ready for single-point or two-point operation, always there when you need it and out of the way when you don't. 
The SlingStock® comes in the Standard model with a quick-detach swivel or an Elite package including the patented Quick-Detach Clasp™. The Elite's QDC™ lets you connect to any point on a picatinny rail. When not in use, the QDC™ is secured to a small, square picatinny rail piece — the patented Pic2™ — on the base of the Elite SlingStock® body to ensure it's always ready to go.
How to Use the SlingStock®
The SlingStock® was created for rapid sling deployment in high-stress situations, making it ideal for law enforcement applications and self-defense scenarios. For single-point use, the user need only press the release button to pull out the desired amount of webbing, sling up, then press the button again to tighten the sling and lock it to the correct length.
 For a retractable two-point sling, the procedure is similar. With your webbing extended, remove the QD swivel or Quick-Detach Clasp™ from the base of the buttstock and connect it to a forward position, then adjust as needed with the retraction/release button. The Standard SlingStock® will require a compatible connector where you want to attach the sling. The Elite model lets you snap your sling onto any area of picatinny rail for full position customization.
When you're ready to stow the retractable sling and return your AR to a clean configuration, just reconnect the swivel or attach the QDC™ to the Pic2™ mount and press the activation lever again. 
Stay Threat Ready With the SlingStock®
An AR stock with a built-in sling gives you all the benefits of a sling with none of the drawbacks. With the SlingStock®, you can choose your sling configuration on the fly, set the length to fit any user or gear setup, and eliminate sling snags. You can also rely on it completely thanks to the WMD Guns commitment to quality — we even submitted this design to a grueling sand and surf test to ensure it's ready to perform in any environment. 
Whether you're a police officer who needs the cleanest possible rifle deployment or a recreational shooter with a lot of gear to manage, the SlingStock® is the perfect way to minimize hang-ups and go hands-free in seconds. Order online today to see what an integral AR-15 sling should be, or check out our information page on the SlingStock® for demonstration videos and more on how this tool can benefit LEOs and other professionals whose work calls for armed deployment. 
We can also accommodate large-scale orders for law enforcement agencies wishing to add this integrated sling to their duty rifles. Please contact our team for more information. 
Showing all 2 results
Showing all 2 results